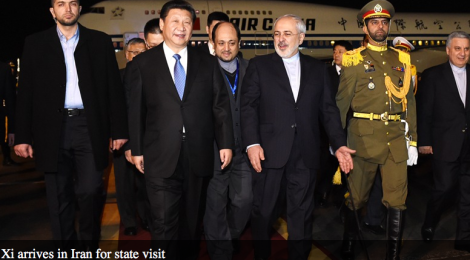 Xi arrives in Iran for state visit
TEHRAN, Jan. 22 (Xinhua) — Chinese President Xi Jinping arrived here Friday night for a state visit to Iran aimed at further boosting the traditional friendship and economic engagement between the two countries.
Xi's visit comes days after West-led sanctions on Iran were lifted following an announcement by the International Atomic Energy Agency confirming that Tehran had scaled back its nuclear program. China played a constructive role in prior negotiations.
It is the first state visit in 14 years by a Chinese head of state to Iran, and also Xi's first trip to the ancient country, whose friendship with China dates back to 2,000 years ago thanks to the Silk Road.
Both as ancient civilizations, China and Iran boast long history and splendid culture and have made important contribution to human progress, Xi said in written remarks upon arrival.
"Currently, China and Iran are faced with new development opportunities in their relations," Xi said. "China stands ready to work with Iran to seize the momentum and further elevate our relationship and practical cooperation, so as to usher in a new chapter for our ties featuring comprehensive, long-term and stable development."