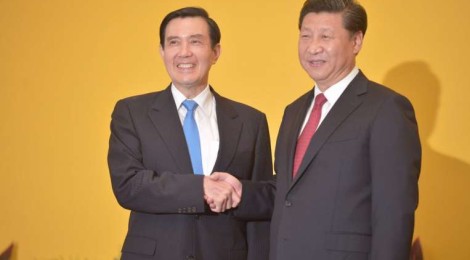 Leaders of China and Taiwan meet for first time in nearly seven decades
Xi Jinping and Ma Ying-jeou began historic summit in Singapore with a minute-long handshake – and agree to split the bill for dinner
The leaders of China and Taiwan met for the first time in almost seven decades on Saturday as Xi Jinping and Ma Ying-jeou began a historic summit in Singapore with a minute-long handshake. "Nothing can separate us," Xi told his Taiwanese counterpart in brief public remarks following the handshake. "We are one family … We are brothers who are still connected by our flesh even if our bones are broken.
Ma told Xi both sides had been working "to replace conflict with dialogue … We follow different political systems, but we have developed military and economic cooperation," he said.
The meeting between Communist party chief Xi and Nationalist president Ma was the first time two such leaders had come together since Mao Zedong founded the People's Republic of China in 1949. The last encounter between communist and nationalist leaders came in August 1945, when Mao and Chiang Kai-shek came together in Chongqing for seven weeks of talks.
Chinese state media painted the dialogue as a watershed moment which one analyst compared to Richard Nixon's 1972 trip to China, which paved the way for the normalisation of relations between Beijing and Washington. "This is also an icebreaking meeting," Tao Wenzhou, from the Chinese Academy of Social Sciences, told CCTV, the state broadcaster.
Read the Full Article and Watch the Handshake
Source:

---