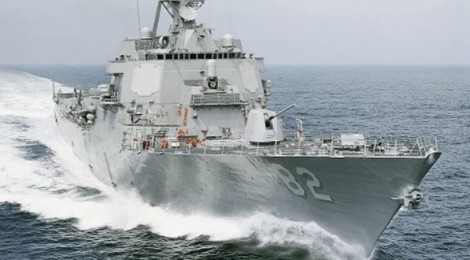 China warns Washington after USN destroyer conducts FON mission in South China Sea
Key Points
Beijing has expressed 'strong dissatisfaction' after a US Navy destroyer operated within 12 n miles of a Chinese-made artificial island in the South China Sea for the first time
The operation, which had been expected for weeks, follows a series of public disagreements between the two countries about what constitutes freedom of navigation and territorial waters
China's Foreign Ministry expressed "its strong dissatisfaction and resolute opposition" on 27 October after US Navy (USN) destroyer USS Lassen (DDG 82) sailed within 12 n miles of one of Beijing's newly built islands in the South China Sea.
The Arleigh Burke-class guided-missile destroyer had "without Chinese government permission, illegally entered China Nansha Islands and adjacent waters to the reef," the ministry said in a statement on its website.
The statement was confirmation of reports that Lassen had sailed within what China views to be territorial waters of the artificial islands it has built in the disputed Spratly Islands. US officials had refused to confirm multiple media reports that the destroyer was preparing to conduct the first freedom of navigation (FON) operations around the reefs since China began a massive island building programme in 2014.
"The [activities of the] US warship threatens China's sovereignty and security interests, jeopardises the safety of personnel and facilities [on the] reefs, and damages regional peace and stability," the Chinese Foreign Ministry statement added.
Earlier, Foreign Minister Wang Yi had said in a statement that "we urge the US side to think twice, not to take rash moves and stir up trouble" over the issue.
Source

---