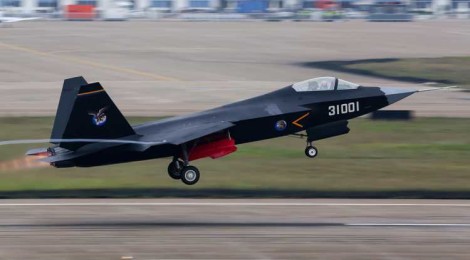 China's New Stealth Fighter Could Defeat F-35, AVIC Chief Says
China's newest stealth fighter would be able to "finish off" a U.S. F-35 in head-to-head combat, the chairman of its manufacturer said.
The J-31, developed by the Shenyang subsidiary of Aviation Industry Corp of China, known as AVIC, will appeal to "cost conscious" global customers, AVIC Chairman Lin Zuomin said in an interview with state broadcaster CCTV that aired Dec. 7. Asked about the J-31's combat ability compared to the F-35 Joint Strike Fighter, Lin replied: "The J-31 will finish it off in the sky."
The J-31 made its debut last month at the Zhuhai Air Show and is China's version of the so-called fifth-generation fighters such as the F-35 that are less visible to infrared sensors and can cruise at supersonic speeds.
"These are the kinds of statements that make my jaw drop to the ground — where is the proof?" said Richard Bitzinger, a senior fellow at the S. Rajaratnam School of International Studies in Singapore. "What is its turn radius? What kind of avionics does it carry? Let alone weapons? This is just a nice piece of jingoistic nationalism."