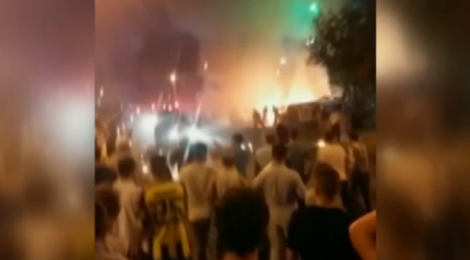 U.S. consulate in Turkey targeted as wave of attacks kills 9
Two women shot at the U.S. consulate in Istanbul on Monday and at least nine people were killed in a wave of separate attacks on Turkish security forces, weeks after Ankara launched a crackdown on Islamic State, Kurdish and far-left militants.
The NATO member has been in a heightened state of alert since starting its "synchronized war on terror" last month, including air strikes against Islamic State fighters in Syria and Kurdistan Workers Party (PKK) militants in northern Iraq. It has also rounded up hundreds of suspected militants at home.
A far-left group that killed a Turkish security guard in a 2013 suicide bombing of the U.S. embassy in Ankara claimed it was involved in Monday's attack.
The Revolutionary People's Liberation Army-Front (DHKP-C), considered a terrorist organization by the United States and Turkey, said one of its members was involved, and called Washington the "arch enemy" of the people of the Middle East and the world.
Turkey's foreign ministry condemned the attack and said security at U.S. diplomatic missions was being tightened. Police with automatic rifles cordoned off streets around the U.S. consulate in the Sariyer district on the European side of Istanbul.
Ahmet Akcay, a resident who witnessed the attack, told Reuters that one of the women fired four or five rounds, aiming at security officials and consulate officers.
Read the Full Article and Watch the Video
Source:

---