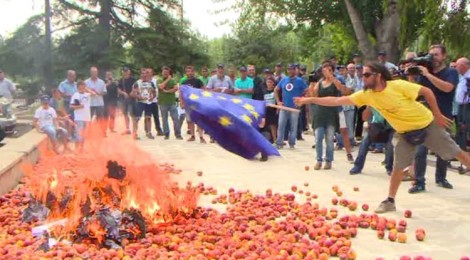 Peach Protest: Spanish burn EU flag over Russia sanctions (VIDEO)
A trade union representing Catalonian crop growers and cattle ranchers has staged a protest, demanding that the EU compensate them for the revenues lost as a result of the escalation of sanctions, which have closed the Russian market to them.
A group of about 30 representatives from JARC (Young Farmers and Ranchers of Catalonia), one of the biggest agricultural unions in the region, demonstratively burned crates of ripe peaches outside the Lleida municipality building.
As a throng of journalists looked on, the unionists hurled an EU flag onto the bonfire, which disintegrated in seconds.
"We will not accept any more that the EU keep telling us what to do, these people that have never set foot in a fruit field. For once you will have to listen to the producers, not the consumers," David Borda, a union official, told Ruptly news agency.