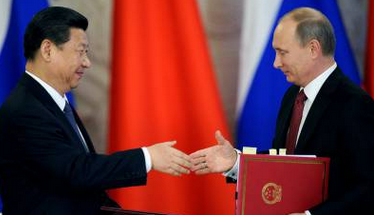 Russia Insider: Goodbye Petrodollar: Russia Accepts Yuan, Is Now China's Biggest Oil Partner
Russia is now the top crude exporter to China, the largest (or second largest, depending on whom you ask) oil demand growth country in the world.
At the start of the decade, Saudi Arabia enjoyed a 20% share of Chinese crude imports, while Russia was lagging far behind with 7%. Now the Saudis find themselves neck and neck with Moscow for the lead in Chinese market share, with both performing in the 13-16% range. But Russia's share continues to rise, as The Kingdom struggles to maintain a foothold.
Why? Analysts attribute Russia's huge market share growth to its willingness to accept yuan, while Saudi Arabia is still clinging to blood-soaked dollars.