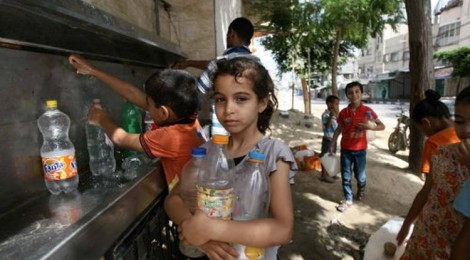 Gaza children's appeal – Donate now to help
What's happening in Gaza?
The children of Gaza are in serious danger, trapped in a prolonged and violent conflict. Among Gaza's 900,000 children, 8 out of 10 are now dependent on humanitarian assistance.
As of 11 August almost 450 children have lost their lives – that's more than 10 children killed every day. Over 2,750 children have been injured and almost half a million people have been forced to flee their homes. Nearly 400,000 children are in urgent need of psychological support.
Critical water and sanitation faclities have been damaged in the conflict, posing great risk of waterborne diseases as temperatures soar. Over 150 schools have been damaged by conflict.
Please give now to help the children of Gaza
How is UNICEF helping children in Gaza?
"For the sake of children, all sides to this conflict must come to their senses, permit humanitarian workers to aid those in need, and agree to end these attacks," said UNICEF's Executive Director Anthony Lake. "Now, before more innocent lives are lost – including the most innocent of all, the very young."
During times of conflict, UNICEF saves and protects children's lives. UNICEF leads on delivering clean water, basic sanitation, education and work to protect the children of Gaza. UNICEF has dedicated teams on the ground right now, providing water, hygiene kits, high-energy biscuits, school materials and vital psychological support.
UNICEF is appealing for £8 million for its urgent humanitarian response for children in Gaza. To date, a quarter of the appeal has been funded.
Please donate now to help save and protect the lives of children in Gaza