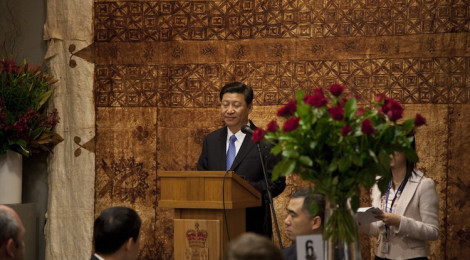 Chinese president's signed article on Iranian newspaper
Chinese President Xi Jinping published a signed article titled "Work Together for a Bright Future of China-Iran Relations" on Iranian newspaper Iran on Thursday, ahead of his state visit to the country.
The following is the English version of the article:
Work Together for a Bright Future of China-Iran Relations
By H.E. Xi Jinping
President of the People's Republic of China
As I am about to embark on my state visit to Iran at the invitation of President Rouhani, I am looking forward to in-depth exchange of views on deepening China-Iran relations in the new era as well as on major international and regional issues and working together with my Iranian hosts to bring the relationship to a new stage.
This will be my first trip to Iran, yet like many other Chinese, I do not feel like a stranger in your ancient and beautiful country, thanks to the Silk Road that linked our two great nations for centuries and to the many legendary stories recorded in history books of our friendly exchanges.
Over 2,000 years ago during the West Han Dynasty in China, the Chinese envoy Zhang Qian's deputy came to Iran and received warm welcome. Seven centuries later during the Tang and Song dynasties, many Iranians came to China's Xi'an and Guangzhou to study, practice medicine and do business. In the 13th century, the famous Iranian poet Saadi wrote about his unforgettable travel to Kashgar, Xinjiang. In the 15th century, a renowned Chinese navigator Zheng He from the Ming Dynasty led seven maritime expeditions, which took him to Hormuz in southern Iran three times.
The much-prized Persian carpet is weaved out of a fusion of China's silk and Iran's sophisticated techniques. And the exquisite blue and white porcelain is produced thanks to a mixture of Iran's "smaltum" (a type of material containing cobalt, unique to Iran) and China's advanced skills. Via Iran, China's lacquerware, pottery, as well as papermaking, metallurgical, printing and gunpowder making skills were spread to the west end of Asia, and further on to Europe. And from Iran and Europe, pomegranate, grape, olive, as well as glass, gold and silver ware were introduced into China.